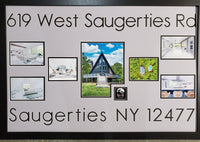 Realty Showroom Showcase
---
Impressive 24 x 36 Custom Engraved Listing Photo Collage Showcase!
This Beautiful display creates a  beautiful & clean decor for your Realty Office Lobby.
Showcases are completely customizable to hold as many photos as desired!
They serve as an attractive display for your customers to view your office listings and can then be gifted to your new Home Buyer!! WIN WIN Investment!